Eight of Wands
The Lord of Swiftness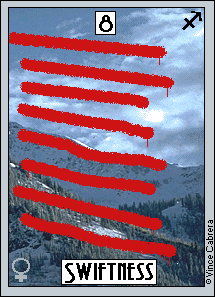 Venus in Sagittarius. Eight hastily painted lines (hence the "streaks") seem to rush across a tranquil dawn. They are like spears flying across the air, but in flight they also separate, allowing us to see beyond them and into a grand and beautiful landscape opening before us. It's going to be a terrific day for exploring this new country.
Meaning
Things suddenly and unexpectedly come together: an end to all delays as the final piece falls into place. The big moment. Urgent news, phone-calls, faxes, e-mails, maybe even travelling. Hopefully things will all go for the best.
Reversed
Rash and reckless actions, no news or possibly bad news. Jumping the gun.